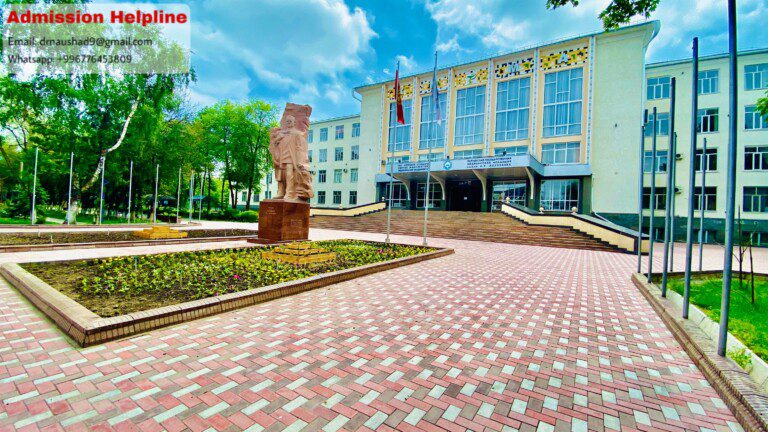 About Kyrgyz State Medical Academy:
The Kyrgyz State Medical Academy came to enforce in 1939 as a medical institute. Recently the Kyrgyz State Medical Academy had celebrated its 80th anniversary as it began a new decade of activity. In fact, Kyrgyz State Medical Academy is one of the best medical academies among all medical universities in Kyrgyzstan. It is WHO and NMC and PMC approved meanwhile, the academy aims to apply most modern methods and advanced technology in teaching international students.
Kyrgyz State Medical Academy is known as KSMA, KGMA & KIGMA, I.K Akhunbaev Kyrgyz State Medical Academy, Kyrgyz State Medical University, Kigma Medical University, and Kyrgyzstan State Medical University. It is a government medical college for study MBBS in Kyrgyzstan. It is located in the capital city of Bishkek and awards an MD (Physician) degree to the graduating students. Founded in 1939, Kyrgyz State Medical University is one of the oldest and most prestigious medical universities in Kyrgyzstan. It is also the university with the highest FMGE passing percentage in Kyrgyzstan.
The course of duration is 4.5 years and 1 year Internship for Indian students in Kyrgyz State Medical Academy from 2022 onwards and the medium of instruction will be English for the entire 5.5 years. Course of duration for Pakistani students and other nations is only 5 years.
All clinical hospitals attached to the college are equipped to train students. All types of diagnostics and tests, thermo-vision, angiography, endoscopic technique, treatment by hyperbaric oxygenation, laser therapy, and efferent methods of detoxication are taught.
KSMA is recognized by the National Medical Commission and Pakistan Medical Commission, the World Health Organization (WHO), FAIMER and IMED. Students are trained to appear for USMLE, PLAT, NZREX, etc. for further studies in countries like the USA, UK, New Zealand, etc.
Language Building of Kyrgyz State Medical Academy:
The Language building is located in The Kyrgyz State Medical Academy Main Campus. Faculty Secretary, 8 Departments, 2 Lecture halls, 2 Disciplines, and some administrative offices are located in this building.
This building is designed for a preparatory course in the following fields:
Biophysics

Physics

Basic Mathematics

Basic Physics

History of Kyrgyzstan

Philosophy

Russian language

Kyrgyz language
→ Learning of the Russian language becomes important when students live in Kyrgyzstan for many years however the course of general medicine in the English language is in full English medium and the teacher also speaks English.
→ It is required that by the third year of studies students will be obliged to speak Russian to be able to work with patients. To meet this requirement students take intensive Russian language courses during the first year.
→ In the preparatory course, students learn basic subjects like the Russian language, Basic Maths, Basic Physics, and History of Kyrgyzstan, etc. these all subjects are only taught in the first semester.
Sports & Recreational Facilities at Kyrgyz State Medical academy:
Total 2560 sq. mt. the area is covered by sports and fitness centers at Kyrgyz State Medical Academy Main Campus which includes ground, basketball court, and gym and one big volleyball ground are on the ground floor of the university. One will never find this area without any student playing on it apart from college hours and nights. This area is not only used for particular activities but many activities like – basketball, football, Cricket, Volleyball, Table Tennis, Badminton, Health-related physical fitness activities like running, jogging, walking. Such activities refresh our students helps them in academics as well by filling ordinance form by zonal representative upgrade their marks. Physical Education being a part of a curriculum, Practice is also carried out on our college campus. Students also participate in Intercollegiate interuniversity sports tournaments for which they practice in the campus itself within available sports facilities. Students are inspired to play by supporting outstanding players with good quality equipment. Occasional Events like Yoga Day, National Sports Day are celebrated. Annual events like T20 Cup, ASKARA are organized. The student's sports council is also renewed every year. Interested students can use Gym for fitness and sports performance.
Congress Building in Kyrgyz State Medical Academy:
This buiding is established in 2020 within campus of Kyrgyz State Medical Academy. This buiding was built so that lectures and classes can be easily done within campus so that students do not have to go far for attending lectures and classes in different departments. There is one big lecture hall and many classrooms are there.